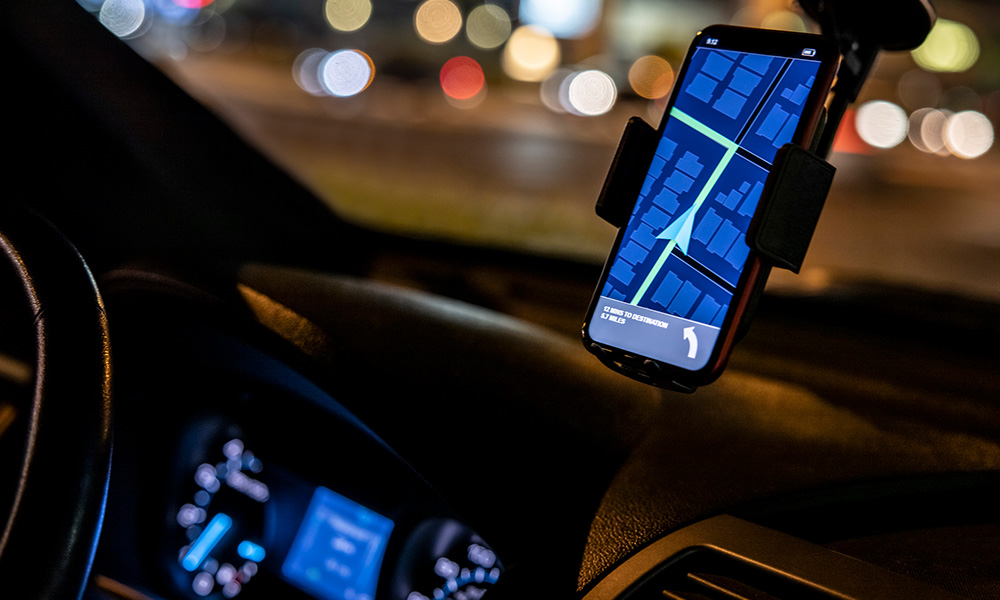 A growing problem among all drivers is distracted driving, however it is more prevalent among those who do ride-sharing and food deliveries. With popular apps such as Uber, Lyft, and GrubHub, many more people are now using their own personal vehicle to make their living by transporting either passengers, or food. This has been a cause of increased numbers of distracted drivers that are on the road, and results in an increase risk of accidents and injuries. In a study conducted by the NHTSA, in 2020 alone, distracted driving claimed 3,142 lives.
The most common cause of a distracted driving incident among ride-sharing drivers and food delivery drivers is the use of their smartphone and the use of mobile apps including TikTok, Instagram, BeReal, Snapchat, VSCO, and Facebook. Often, drivers will use their phones in order to navigate and communicate with passengers and dispatchers, or to accept a new ride and/or delivery request. By doing this, it is easy for these type of drivers to become easily distracted and take their eyes off of the road.
Handheld cellphone use was found to be highest among 16- to 24-year old drivers and lowest among drivers 70 and older in 2020 according to the same study by the NHTSA.
Below is a list of popular ride-share companies:
Uber
Lyft
Ola
Didi Chuxing
Grab
Gojek
Taxify (now called Bolt)
BlaBlaCar
Yandex.Taxi
Careem
Curb
Gett
Juno
Mytaxi
Wingz
Flywheel
InstaRyde
Shebah
U Ride
Beat.
Another issue these drivers face is constantly being pressured on time. Most of these drivers are working long hours and are under the pressure to complete as many food deliveries or rides that they possibly can throughout the day. This often leads drivers to feeling rushed and making dangerous decisions while they are on the road, such as speeding or running a red light, as well as being easily distracted.
These drivers also work flexible hours, some through the night, which is able to disrupt their regular sleeping schedules, which can lead to not only drowsiness, but also fatigue. Drowsy driving has the ability to be just as dangerous as distracted driving and can also cause slower reaction times, impaired judgement, and falling asleep at the wheel.
Some of the different type of food deliveries include:
GrubHub
Uber Eats
DoorDash
Postmates
Seamless
Instacart
Prime Now
Caviar
Delivered Dish
EatStreet
GoPuff
Foodpanda
Lieferando
Delivery.com
Takeaway.com
Just Eat
Foodora
Deliveroo
Zomato
Glovo
Rakuten delivery
Slerp.
To address the problem with distracted driving among ride share and food deliver drivers, a couple different measures of precaution can be taken. First, awareness of the problem needs to be raised to educate these type of drivers on the risks and outcomes that distracted driving can cause. This is possible by providing training programs, public service announcements, as well as informational campaigns about distracted driving.
The companies that hire these drivers need to have strict policies that are in place to prohibit their drivers from using their phone while on the road. GPS tracking devices should monitor the driver's behavior or auto-send a message to the passenger that the driver is currently driving and is not able to answer the phone.
Lastly, by implementing a stricter penalty and fine for those who drive distracted may also serve as a detergent for other drivers. This would help them to understand how important this topic is for not only their own safety, but for others, stricter penalties and fines for distracted driving can also serve as a deterrent for drivers.
By knowing all these different types of ways a distracted driving accident can occur, we hope you take it seriously next time you get a text message that you can't wait to open until your destination. Distracted driving is a very serious problem among all ride-sharing, as well as food delivery drivers. It poses a significant risk to the safety of all drivers. To fix this problem from continuously happening, it's essential that awareness is raised to educate drivers, and give them the tools they need to know in order to stay focused on the road.