Car accidents happen every day and can range from minor fender benders to devastating crashes. But sometimes, a car accident can be more painful in the pocketbook than in your body. Have you ever wondered about the most expensive car accidents in history? Well, buckle up because we're about to take you on a tour of the world's most expensive car crashes.
Pagani Zonda HP Barchetta Crash: $17 Million

In Croatia, the driver of a Pagani Zonda HP Barchetta lost control of his vehicle and he slammed into a driver who was headed in the opposite direction. You can clearly see him go across lanes in the video below.
Eight Ferraris, a Lamborghini, and two Mercedes – World's most expensive accident?: $4M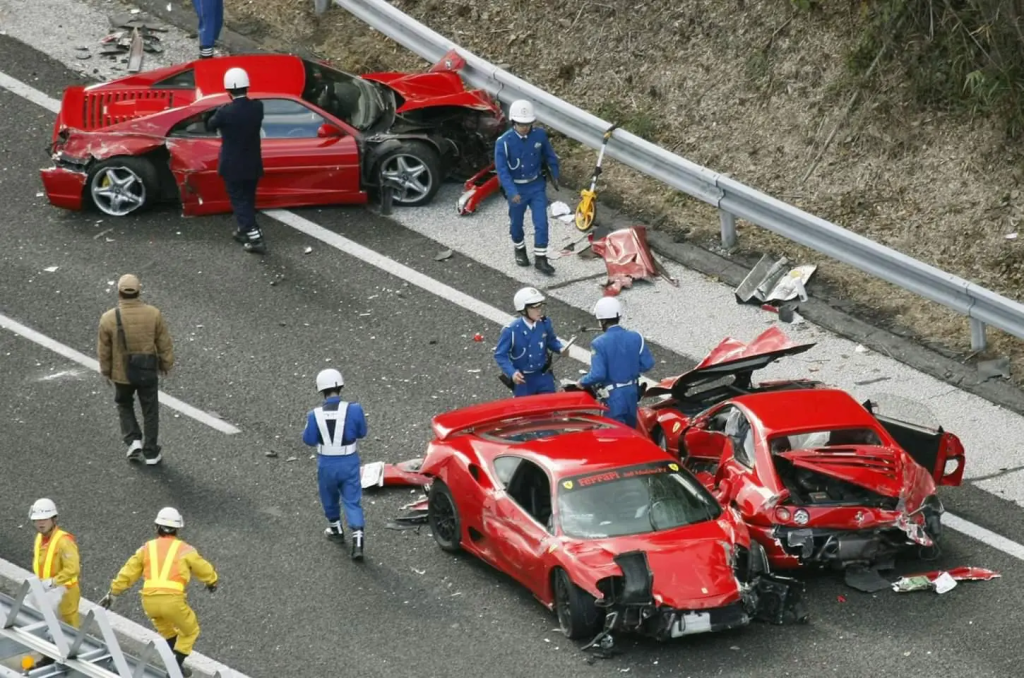 A party of luxury car enthusiasts in Japan were out driving together and one of them caused a chain reaction accident that resulted in 8 Ferraris, a Lamborghini and 3 Mercedes being damaged. The estimated cost to repair these vehicles? Over $4,000,000 dollars!
Ferrari 250 GTO: $70M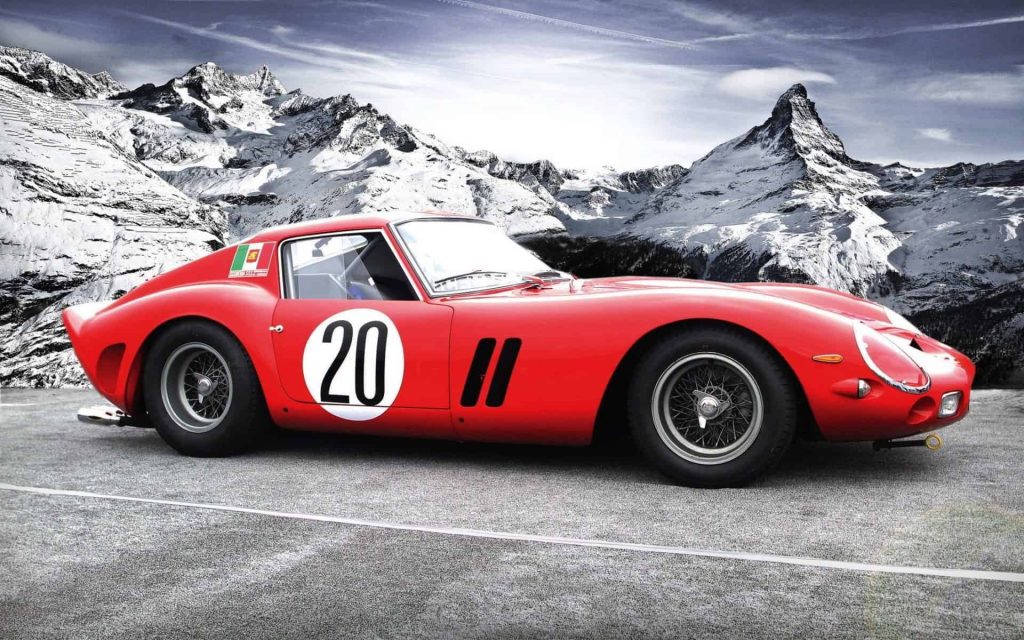 During the year 2017, an uncommon 1964 Ferrari 250 GTO/64 Series II was involved in a crash while attempting to overtake a Corvette Stingray. Fortunately, the driver skillfully evaded colliding with another Ferrari on the racetrack, but as a result, the entire right side of the GTO suffered severe damage. It is worth noting that the Ferrari 250 GTO is occasionally referred to as the most costly automobile globally, valued at over $55 million when in pristine condition.
Pagani Huayra Roadster Crash: $3.4M
So, picture this: in November 2020, a YouTuber barely old enough to get a driver's license was living the life of a baller in his dad's Pagani Huayra Roadster. The young and reckless Gage Gillean decided to take the 3.4 million dollar hypercar out for a spin with a friend, but things took a wrong turn, quite literally.
Gage completely lost control of the hypercar and ended up having an intimate encounter with a tree. Ouch. Luckily, Gage walked away from the accident with just a few scratches and bruises, but the same couldn't be said for the car. The Huayra Roadster was toast – it was so beyond repair that even the local scrap yard rejected it.
But let's not shed a tear for Gage just yet. His pops, Tim Gillean, has more exotic cars in his garage than Gage has Instagram followers. He's got a Ferrari LaFerrari, Bugatti Chiron, McLaren Senna, and a bunch of other expensive toys that us mere mortals can only dream of. Maybe Gage learned a valuable lesson, or maybe he's already planning his next joyride. One thing's for sure – with a dad like Tim, Gage will never run out of luxury cars to crash.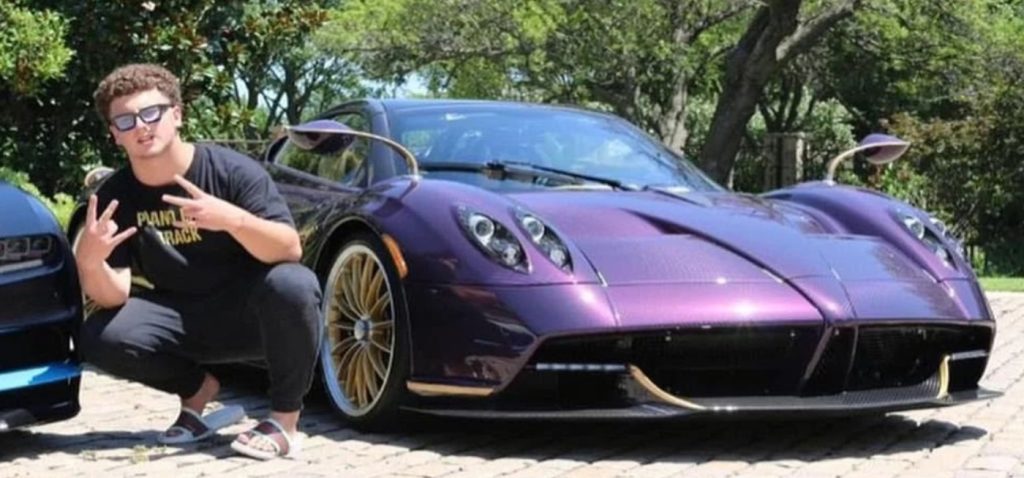 The kid of a billionaire, Gage Gillean, crashed his fathers $3M+ Purple Pagani in 2020. This genius totaled the vehicle, as you can see in the video below.
Pagani Zonda F Clubsport – $2M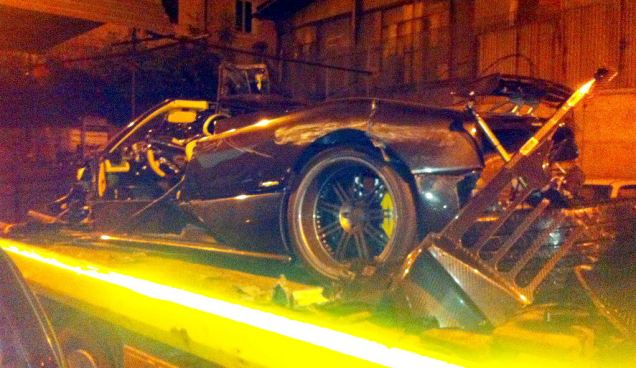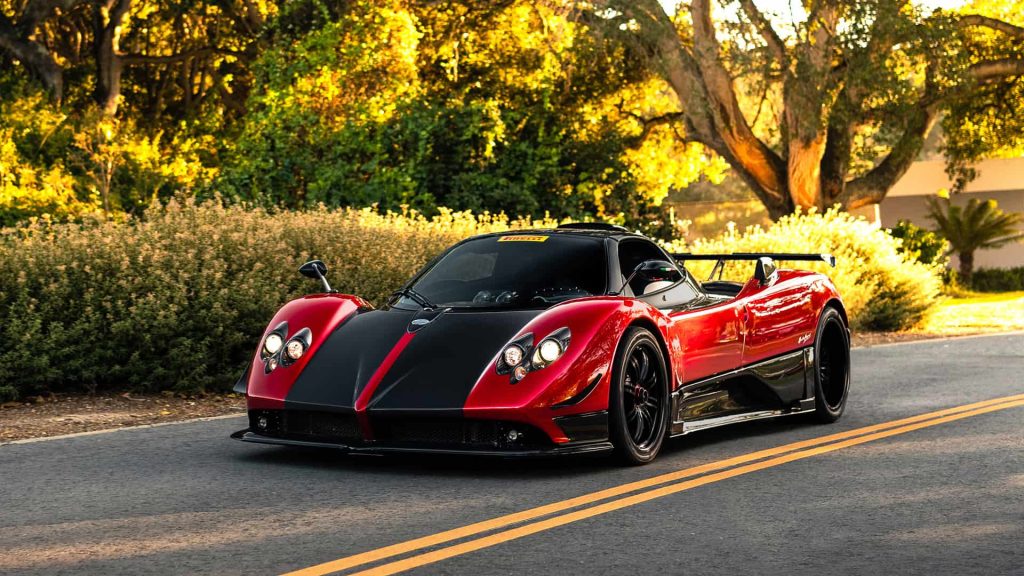 The Pagani Zonda Roadster F Clubsport of Stefan Korbach which was written off in the most expensive new car crash ever. Steffen Korbach from Germany was driving his £1.4 million Pagani Zonda F Clubsport Roadster on a wet road in Italy when he lost control, spinning the rare supercar and smashing it into a barrier. The crash left the Zonda – one of just 25 – a mangled wreck with the front smashed in, one rear wheel seemingly detached from the body of the 7.3-litre supercar and debris strewn over the motorway. However, the Zonda's safety cell channelled the energy from the crash around the car's body and Korbach, 28, and his 21-year-old female passenger amazingly emerged from the crash with only minor bruises.
Mercedes-Benz G63 AMG 6×6: $6M
In 2016, the ruler of Dubai, Sheikh Mohammed bin Rashid Al Maktoum, was involved in a car crash in London. His custom-made Mercedes-Benz G63 AMG 6×6 was reportedly totaled in the crash, which also involved a BMW and a Range Rover. The Sheikh was not injured, but the repair costs for the Mercedes were estimated to be around $6 million.
Kylie Jenner's Bugatti Chiron: $3M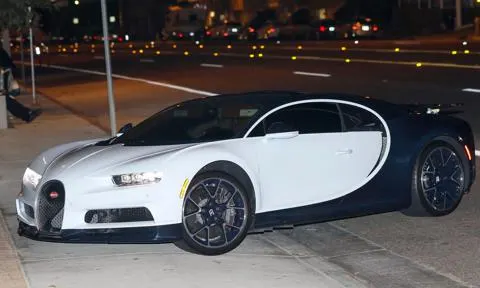 Reality TV star and businesswoman Kylie Jenner was involved in a crash in her Bugatti Chiron in 2019. The car, which can cost up to $3 million, was damaged in the crash, which took place just weeks after Jenner had bought it. Thankfully, Jenner was not injured in the crash.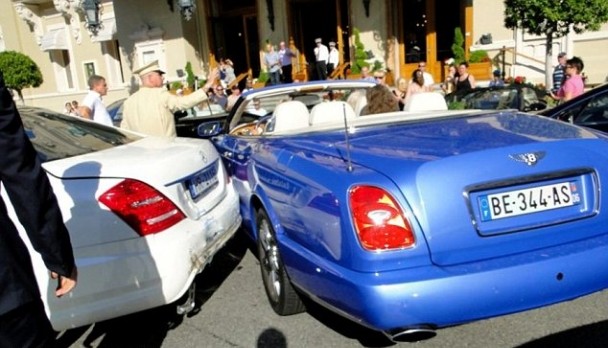 Get a load of this blundering blonde who somehow managed to park her flashy $302,228.25 Bentley Azure in between a Merc, Ferrari, an Aston, and a Porsche outside the Monte Carlo casino. Talk about a tight squeeze! This posh blonde and her three pals were cruising around Monaco when all of a sudden, boom, she smashed into those other fancy shmancy cars. And to make matters worse, it all went down in front of a crowd of tourists in the plush 'Place du Casino'.
The damage to the five cars combined was worth a whopping $827,112! Yikes! The blonde's bent Bentley alone cost over $300,000, but we're not sure it's even worth that anymore. The other cars involved included a white Mercedes S Class worth over $800,000, a black Ferrari F430 worth $170,000, an Aston Martin Rapide worth $300,000, and a Porsche Carrera Sport worth almost $100,000. That's some expensive scrap metal! And if that wasn't bad enough, the blondes were stuck in the crashed Bentley, unable to get out because the door was so mangled it wouldn't budge. And to top it off, the other door was perfectly wedged up against the Aston.
Supposedly, the total cost of these cars was a whopping $1 million, but the expected repair bill is only $60,000? I don't know about you, but something seems fishy there. I mean, we're talking about high-end cars here, and just a few panels alone could easily cost up to $60K.
I'm no expert, but I'm pretty sure the repair bill is going to be way more than what they're estimating. Let's just hope the owners have deep pockets, or they might be looking at a few more dents in their bank accounts.
Mr. Bean's McLaren F1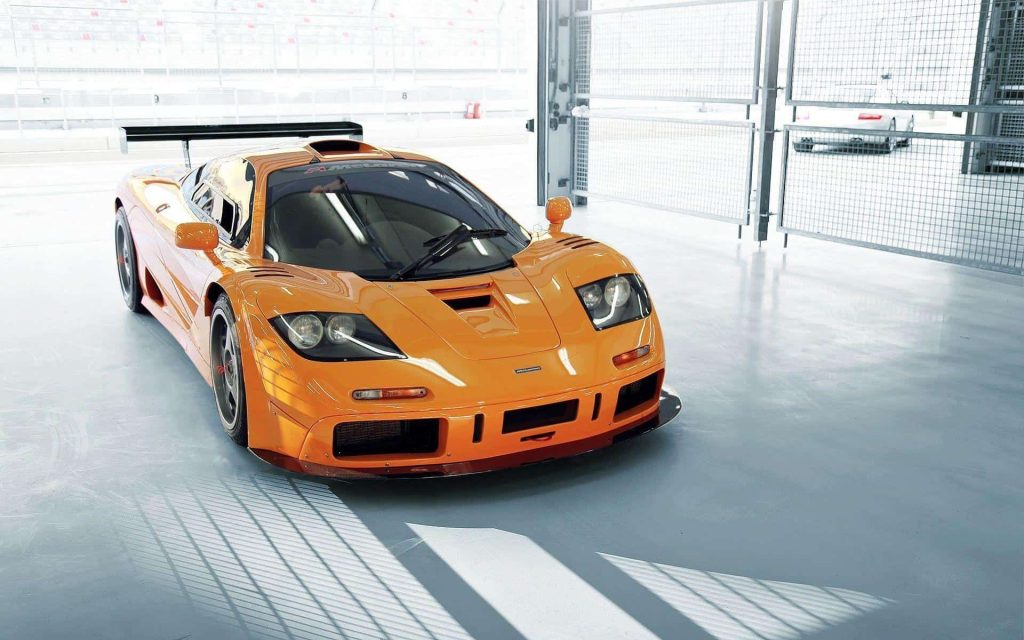 Rowan Atkinson, famous for his portrayal of the beloved comic character Mr. Bean, was the proud owner of a dark burgundy McLaren F1 – a high-performance sports car with a 6.1-liter V12 engine and a top speed of 240 mph. In 1999, he got into an accident that caused only minor damage to the car's bonnet. However, a second accident in 2011 resulted in Atkinson crashing the McLaren into a tree and road sign. Although the actor suffered only minor injuries, repairs for the vehicle added up to over a million dollars.
Fortunately, the car was salvageable and had a happy ending. Atkinson sold the McLaren in 2015 for $12.2 million, making a substantial profit despite the accidents.
Rimac C_Two – $2.4M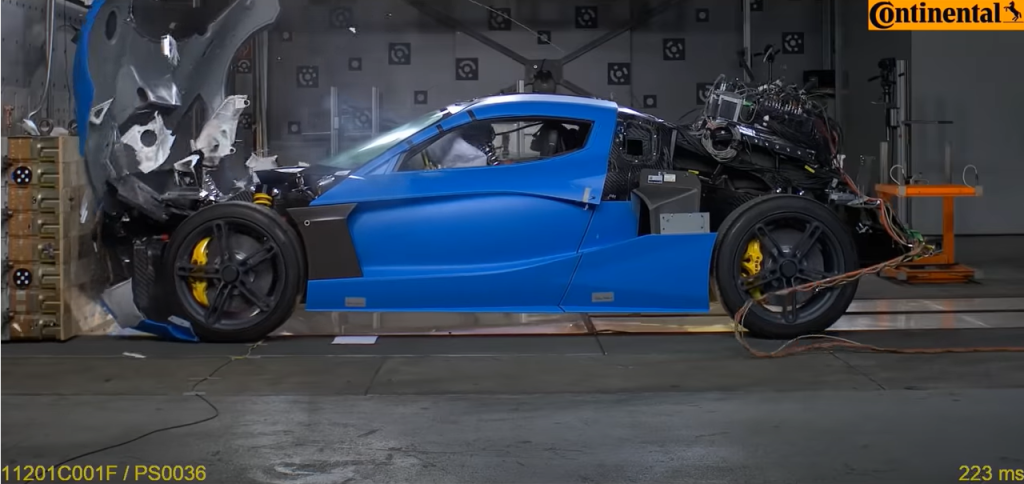 While not a crash caused by the owner themselves, it's still painful to witness. The following video showcases Rimac conducting crash tests on their C_Two model in order to gather information on safety features and the vehicle's crashworthiness in real-world scenarios.
Although it is not technically an "owner crash," the sight of it is still distressing. Rimac has released a video featuring crash tests of the Rimac C_Two to obtain data on the effectiveness of its safety features and its real-world crash performance.

Get ready to break open that piggy bank, because when the C_Two finally hits the market, it's going to come with a hefty price tag of $2.4 million. But don't worry, this ride will have some serious muscle to justify the cost. We're talking a mind-bending 1,887 horsepower and 1,696 pound-feet of torque, with a lightning-fast 0-60mph time of 1.97 seconds and a 0-100mph time of just 4.3 seconds. This car is going to be a straight-up speed demon!
Cristiano Ronaldo's Bugatti Veyron Grand Sport Vitesse – $2M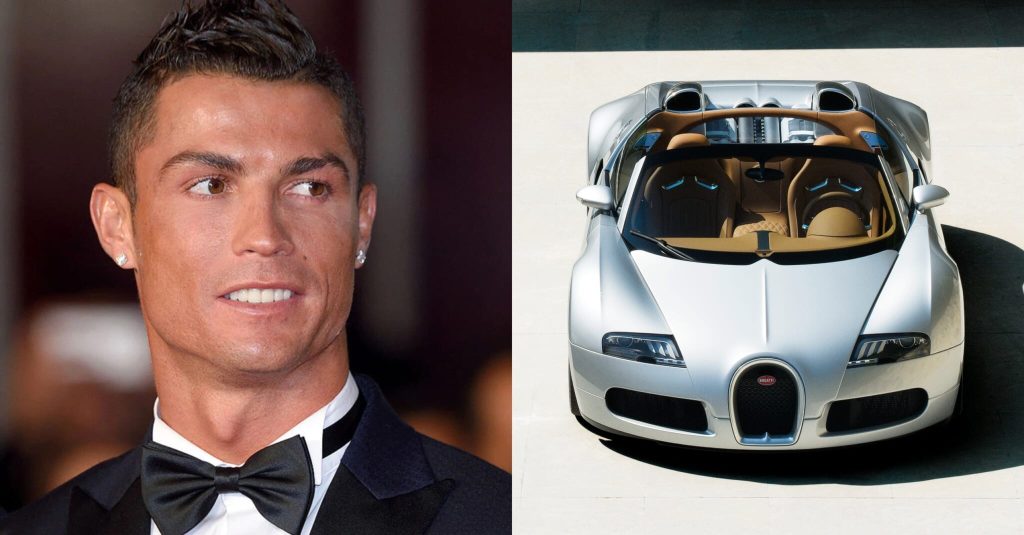 During his stay in Majorca, Cristiano Ronaldo's peaceful vacation took an expensive turn when his bodyguard crashed his Bugatti Veyron. According to The Daily Mail, the soccer star's luxurious Bugatti Veyron Grand Sport Vitesse, which is worth more than $2 million, was involved in an accident on the east coast resort of Sa Coma.
Ferrari Enzo: $1.76 M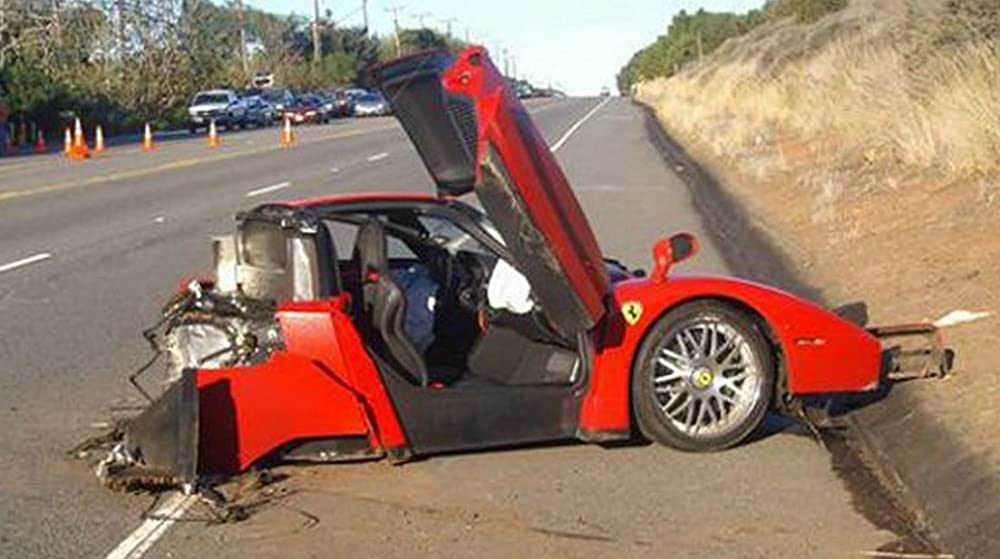 SSC Tuatara: $1.6 Million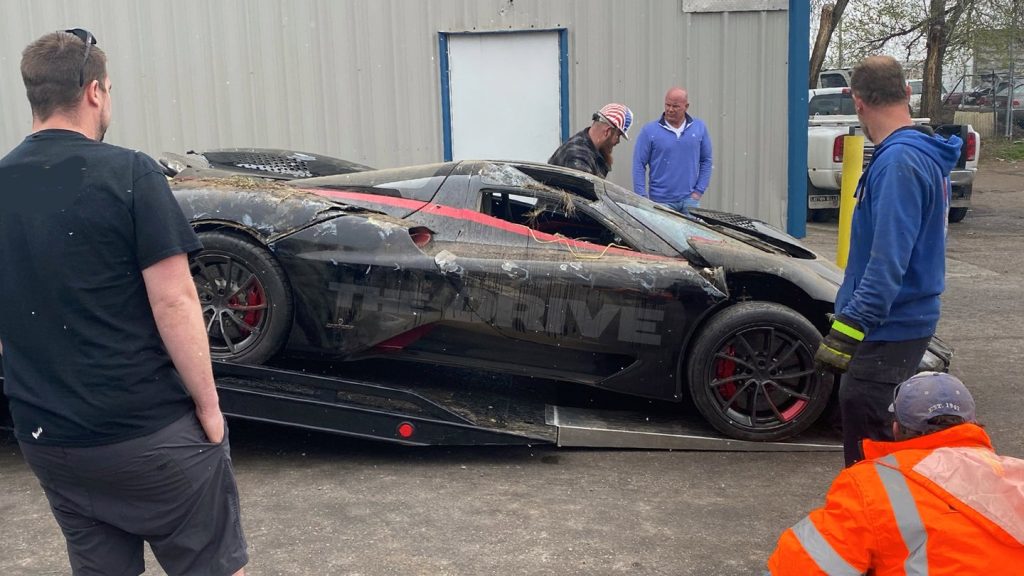 Elon Musk's Mclaren F1: $1M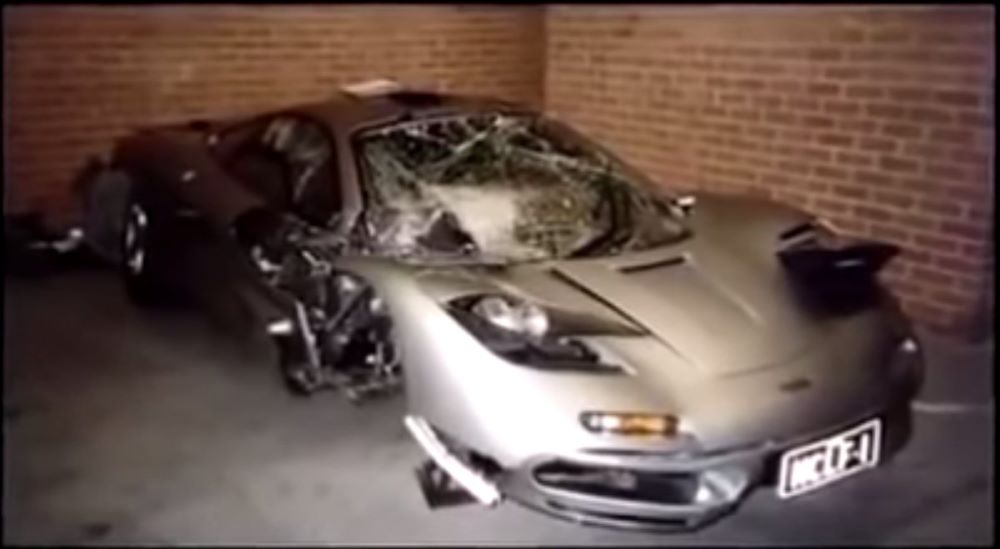 So get this, back when the McLaren hypercar was worth a whopping one million bucks and boasted a ridiculous 618 horsepower, it was one of the fastest cars out there. You'd think Elon Musk, being the smart guy he is, would've gotten some insurance on that baby. But nah, he thought he was invincible and that nothing bad would ever happen to him. Classic mistake, right? One day, while cruising to a meeting with his buddy Peter Thiel, Thiel asked Musk what the car could do. And of course, Musk's response was, "Watch this!" Yeah, not his brightest moment. He lost control of the car and crashed into a freaking embankment. Oops! Turns out, he didn't have any insurance on the car, and that mistake ended up costing him a cool million dollars. Lesson learned, Musk!
MMercedes-Benz 300SL Gullwing – $833,000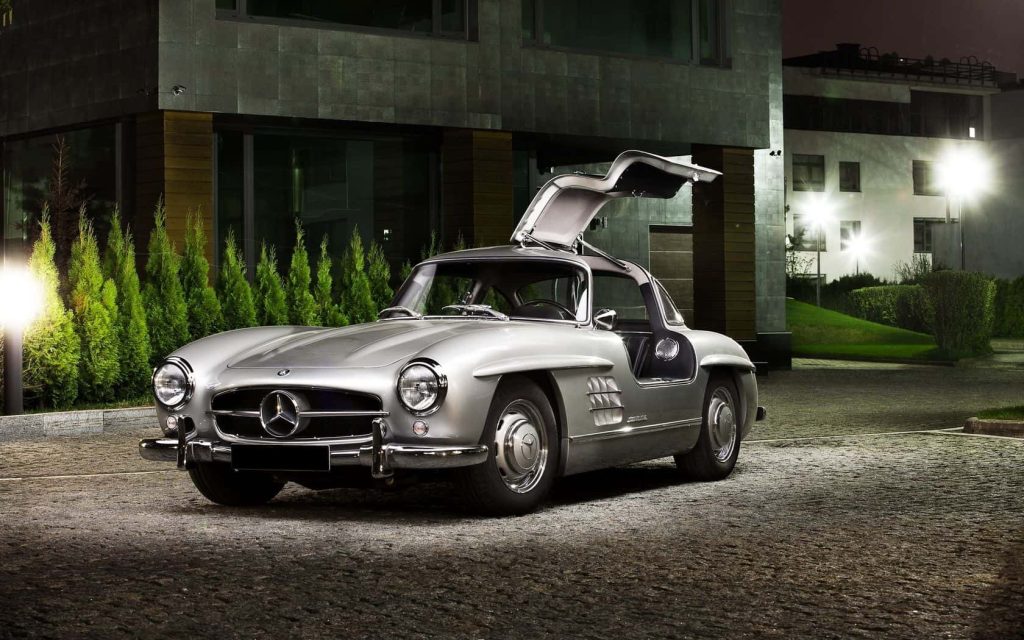 In 1999, the Mercedes-Benz 300SL Gullwing was named the "sports car of the century," thanks to its high-end features and a top speed of 163 mph. However, nowadays, the car is renowned for its rarity and classic nature. Recently, an owner of this prized vehicle took it to a vintage Mercedes-Benz repair shop for some minor repairs and maintenance.
A 26-year-old mechanic, who has chosen to remain anonymous, test drove the car after the repairs to ensure it was functioning properly. Unfortunately, while driving at excessive speeds, the mechanic lost control of the car. Fortunately, both the driver and passenger sustained only minor injuries in the crash. However, the repairs on the vehicle were estimated to cost more than $833,000.
Bugatti Veyron: $1M
Back in 2009, Andy House, a proud owner of a 2006 Bugatti Veyron, had an unexpected aquatic experience with his supercar. While driving alongside a lagoon in Texas, he claimed that a pelican flew into his path, causing him to swerve and ultimately end up in the lagoon. However, a video of the crash revealed no evidence of any birds, leaving House to face an unsuccessful insurance claim. The incident resulted in the loss of his million-dollar supercar, and House was ultimately sentenced to one year in federal prison in 2015. As part of his sentence, he was also ordered to pay back $600,000 to the insurance company, and to undergo three years of supervision upon his release.
More Videos of Expensive Cars Crashing
For your viewing enjoyment, here are a few more videos to watch of expensive cars crashing.